Buy Direct From Your Pump Specialists Today.
As pump specialists, why not purchase direct from us. We have direct accounts with global brand suppliers. We offer competitive supply of all submersible pumps, cellar pumps and commercial pumps.
Are you looking for direct competitive replacement costs for Jung Pumpen, Flygt pumps, Lowara pumps, Grundfos pumps, ABS Sulzer pumps, KSB pumps, Wilo pumps, Calpeda pumps, Homa pumps, Kingspan pumps, DAB pumps, Pedrollo pumps, Ebara pumps and much more? Our experienced team can ease you through sourcing your best replacement pump for your application.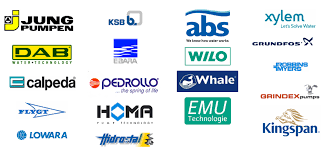 Call or email us today for your competitive pump supply quotation..
Submersible pumps, Basement pumps, cellar pumps, booster pumps, flood pumps, Garden pumps, Heating pumps, Sewage pumps, Wastewater pumps, Rainwater harvesting pumps, Irrigation pumps, Self priming pumps, Solid handling pumps, packaged pumps.