Cavity Drainage Membrane Servicing
Cavity drainage membrane systems explained
In basic term's, a cavity drainage membrane system is a water management system that sit's behind the wall's and floor's of most modern basement construction installation's, outlined by British Standard code of practice BS 8102, ( 2009.) Such system's typically remove groundwater from within your basement wall's and floor's via a mechanical sump pump or gravity drainage using a membrane and a perimeter drainage channel.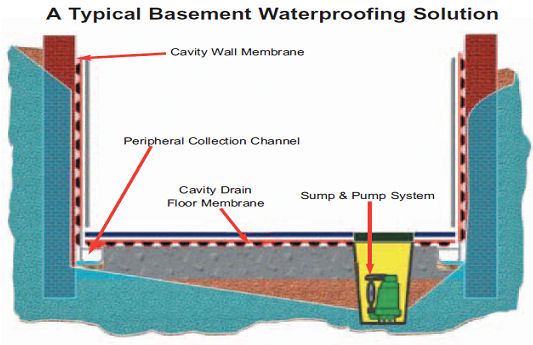 Type C, cavity drainage membrane system's require routine servicing, failure of mechanical pump's can result in flooding of your residential or commercial property.
Maintenance should be undertaken by specialist's making an assessment of its design performance using several servicing method's.
Maintainability and serviceability is key to a healthy Type C, cavity drainage Waterproofing System.
At London Basement Pump's, our expert specialist's servicing engineer's are on hand to service all type's of cavity drainage system's and mechanical sump pump's. We offer pump maintenance contracts for all pumping systems.
Often, multi level commercially constructed buildings do implement in its basement design a "gravity" drainage system ( omitting a pumped application ). Servicing of a "gravity" drainage system will often require jetting and flushing. Sewer systems can often run the risk of failure and "back up" into a Type C cavity drain within the basement. London Basement Pumps expert engineers are also specialists in these particular types of gravity drainage. Our years of expert technical knowledge can present an excellent solution to any commercial client.
It's important that your basement sump and pump and perimeter drainage channel's are serviced as per BS8102 (2009 ) and therefore kept at it's optimum performance as per its design.
For further information on our basement waterproofing Type C cavity drainage servicing protecting your basement investment simply fill in the form below. Or simply call 0800 009 21 20 to speak to a member of our team.
Case Study
Wet vac cleaning of the sump chamber's ensures any debris that has collected is removed and will not damage your pumping equipment.
Flushing your perimeter drainage channels with freelime additives will reduce the risk of flooding and increase the performance of your cavity drainage membrane system which protects your basement investment.